Many, many hours of hard work have gone into creating the maze for you. Please help us preserve the maze for future visitors by observing these rules. Anyone NOT following the rules will be asked to leave the property without a refund. Please review these rules with all of your guests, as they are strictly enforced!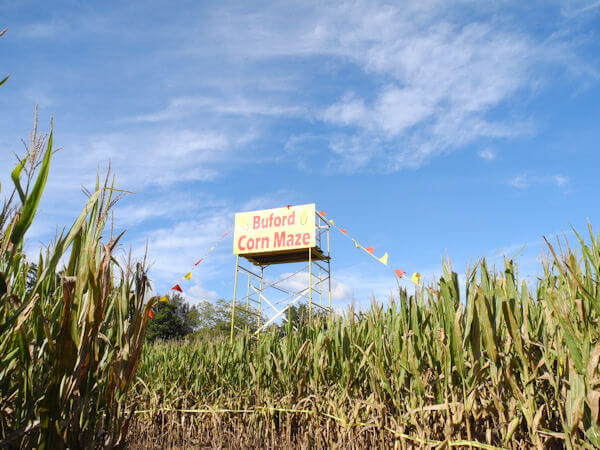 NO ALCOHOL
Smoking is not permitted ANYWHERE on the property!
No pets are allowed other than service animals.
Stay on the paths between the taped areas. This is to keep you safe as well as our corn (it will not grow back if it is knocked down).
Do not pull on the tape. It takes a long time to put the tape up and it is difficult to repair.
Do not cut through the rows of corn. If you are caught destroying the maze in any way, you will be escorted off the premises.
No running.
Adults and parents, you are responsible for the children you bring with you. Please stay with your children to make sure they do not get lost.
Be careful when you are walking through the maze. The ground is rough and uneven. We are not responsible for personal injury.
For everyone's safety, all visitors must stay within any designated roped-off areas.
No bare feet and no open-toed shoes are allowed, due to rough terrain, stones, etc.
No alcohol, drugs, or persons under the influence of either are allowed.
No profanity or inappropriate behavior.
Please do not litter. Use the trash cans that are provided.
We are not responsible for the loss of personal property.
Everyone must exit the corn maze by closing time.
Please be courteous to others.
All unaccompanied children will be walked out of the corn maze to wait for their chaperones.
WE RESERVE THE RIGHT TO REMOVE ANY PERSONS BEHAVING INAPPROPRIATELY OR BREAKING ANY RULES.
WE HAVE A STRICT NO DROP-OFF POLICY! ALL CHILDREN 12 AND UNDER MUST BE ACCOMPANIED BY AN ADULT INTO THE CORN MAZES. WE CANNOT BE RESPONSIBLE FOR UNSUPERVISED CHILDREN. ADULTS NEED TO PLAN ON EXPERIENCING THE CORN MAZE ALONG WITH THEIR CHILDREN.
All vehicles are to stay within the designated parking areas.
Hayride Rules
1. All riders must remain seated while the wagon is in motion.
2. All riders must use steps to enter and exit the wagon.
3. No jumping over the sides.
4. No getting off the wagon during the ride.
Contact us anytime for more information!
Email: tina@bufordcornmaze.com