ticket info
All First Responders and Their Familes Recieve Free Admission This Saturday 9-11
ALL Tickets are plus tax

Includes Access to Corn Maze

Includes Access to Kids' CORNer  Play Area & Activities

Includes Unlimited Hayrides

Excludes Haunted Forest and Pony Rides
Combo Ticket
Single Ticket
ALL Tickets are plus tax

Includes Access to Corn Maze

Includes Access to Haunted Forest (limit 1 admission per visit)

Includes Access to Kids' CORNer Play Area & Activities

Includes Unlimited Hayrides

Excludes Pony Rides
Haunted Forest
Single Ticket
ALL Tickets are plus tax

Includes Access to Haunted Forest (limit 1 admission per visit)

Includes to Kids' CORNer Play Area & Activities

Includes Unlimited Hayrides

Excludes Corn Maze and Pony Rides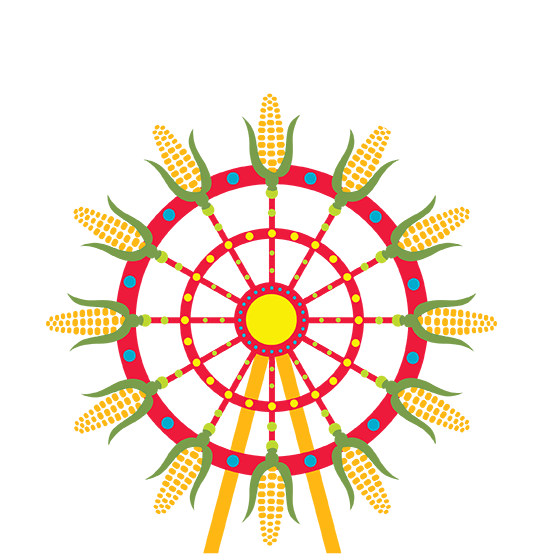 ALL Tickets are plus tax

Includes Access to May Fair fun

Includes Access to Kids' CORNer Play Area & Activities

Includes Unlimited Hayrides

Excludes Pony Rides – available for additional $5
CANCELLATION POLICY:
Tickets are purchased for use on specific dates. If circumstances do not permit the use of tickets for the date they were purchased, tickets may be used on subsequent available dates. Ticket use is subject to availability. Check the Buford Corn Maze ticket calendar for availability. Tickets purchased for the 2020 season must be used before the end of the 2020 season.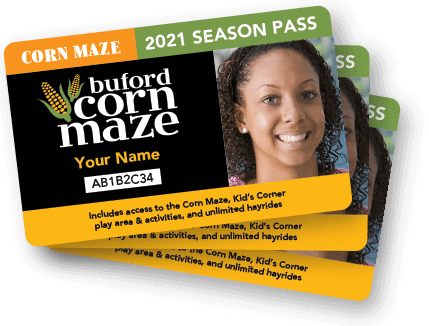 How Do Season Passes Work?
Upon purchase of your season pass you will be issued a unique pass code. The pass code will appear on the confirmation email you receive from Buford Corn Maze. You may use the pass code to book an eligible ticket online. Simply go to Buford Corn Maze online ticket sales and find an available date for a ticket that corresponds to your season pass (whether a Corn Maze, Haunted Forest or Combo ticket). Enter your pass code during checkout to purchase an admission ticket. 
For your first visit, please either print or screenshot the confirmation email with your Booking ID number and pass code and bring it so we may create your photo ID card. You will be required to show the photo ID on each visit.
Please do not share your season pass or unique code with anyone. If someone other than you attempts to use your season pass, your pass will immediately be revoked. If your season pass is lost or stolen you can purchase a replacement card for $10.00 each.
ALL Tickets are plus tax

Includes Season Long Access to Corn Maze

Includes Season Long Access to Kids' CORNer Play Area & Activities

Includes Season Long Unlimited Hayrides

Includes Corn Maze Season Pass Photo ID

Excludes Haunted Forest and Pony Rides
ALL Tickets are plus tax

Includes Season Long Access to Corn Maze

Includes Season Long Access to Haunted Forest (limit 1 admission per visit)

Includes Season Long Access to Kids' CORNer Play Area & Activities

Includes Season Long Unlimited Hayrides

Includes Combo Season Pass Photo ID

Excludes Pony Rides
Haunted Forest
Season Pass
ALL Tickets are plus tax

Includes Season Long Access to Haunted Forest (limit 1 admission per visit)

Includes Season Long Access to Kids' CORNer Play Area & Activities

Includes Season Long Unlimited Hayrides

Includes Haunted Forest Season Pass Photo ID

Excludes Corn Maze and Pony Rides